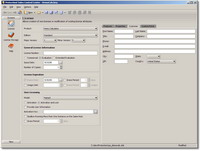 Protection! Sales - an optional product that is designed and targeted for the sales staff. It provides the users with advanced licenses generation, maintenance and delivery functionality.
Protection! Sales provides several ways for integration with other systems. The orders parsing functionality allows integration with third-party ordering and payments systems. Integration with CRM and SAF systems can be achieved with help of logging all the licensing activates.
There are two new abilities for licenses delivery introduced by Protection! Sales: by e-mail and via Protection! Backend. Those ways greatly simplifies licenses distribution tasks especially when combined with the Protection! Enterprise.
Protection! Sales simplifies working with Serial Numbers by allowing bulk generation of them, generation of licenses for passed Serial Numbers etc. There is ability to generate licenses using preconfigured attributes stored in the license aliases. The activation keys composing (for provided attributes like host or Mac address) and validation of de-activation keys functionality provide strong foundation for support of Named User Licensing Model.
With the advanced license generation functionality, Protection! Sales offers exceptional ease of use when it comes to license generations, deployment and management tasks.